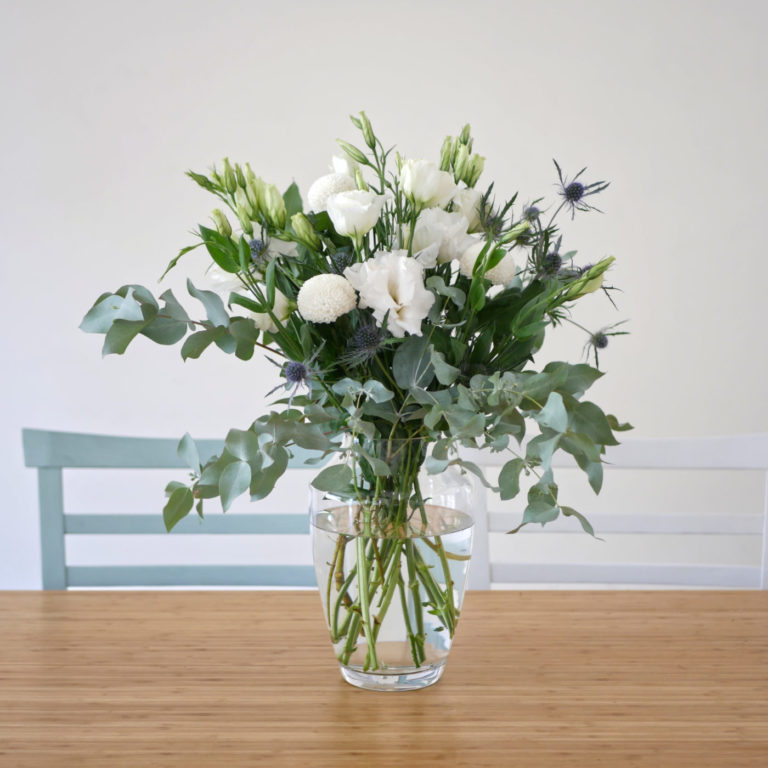 The Snow Queen
Lisianthus, Sea Holly, Ping Pong Disbud & Eucalyptus
This weeks bunch is as close as we'll get to snow and a white Christmas! Featuring delicate white Lisianthus with their paper thin petals, the cutest white Ping Pong Disbuds, pale green/grey Eucalyptus, and Sea Holly, for a Perth style nod towards the festivities. Cool and calm, it'll hopefully help you forget the 40 degree weather outside!
Start with the Sea Holly, removing any leaves/foliage that will fall below the waterline and arranging in a three point star.
Keep the Lisianthus tall and tuck in around the Sea Holly, bringing any shorter stems to the front of the arrangement.
Trim the Ping Pong Disbud to be different heights and add in to any gaps.
Finally weave the Eucalyptus around the other flowers in the arrangement, allowing it to fall naturally over the edge of the vase in places.
Don't forget to keep their water topped up and leave them in a cool spot out of direct sunlight to maximise their life.